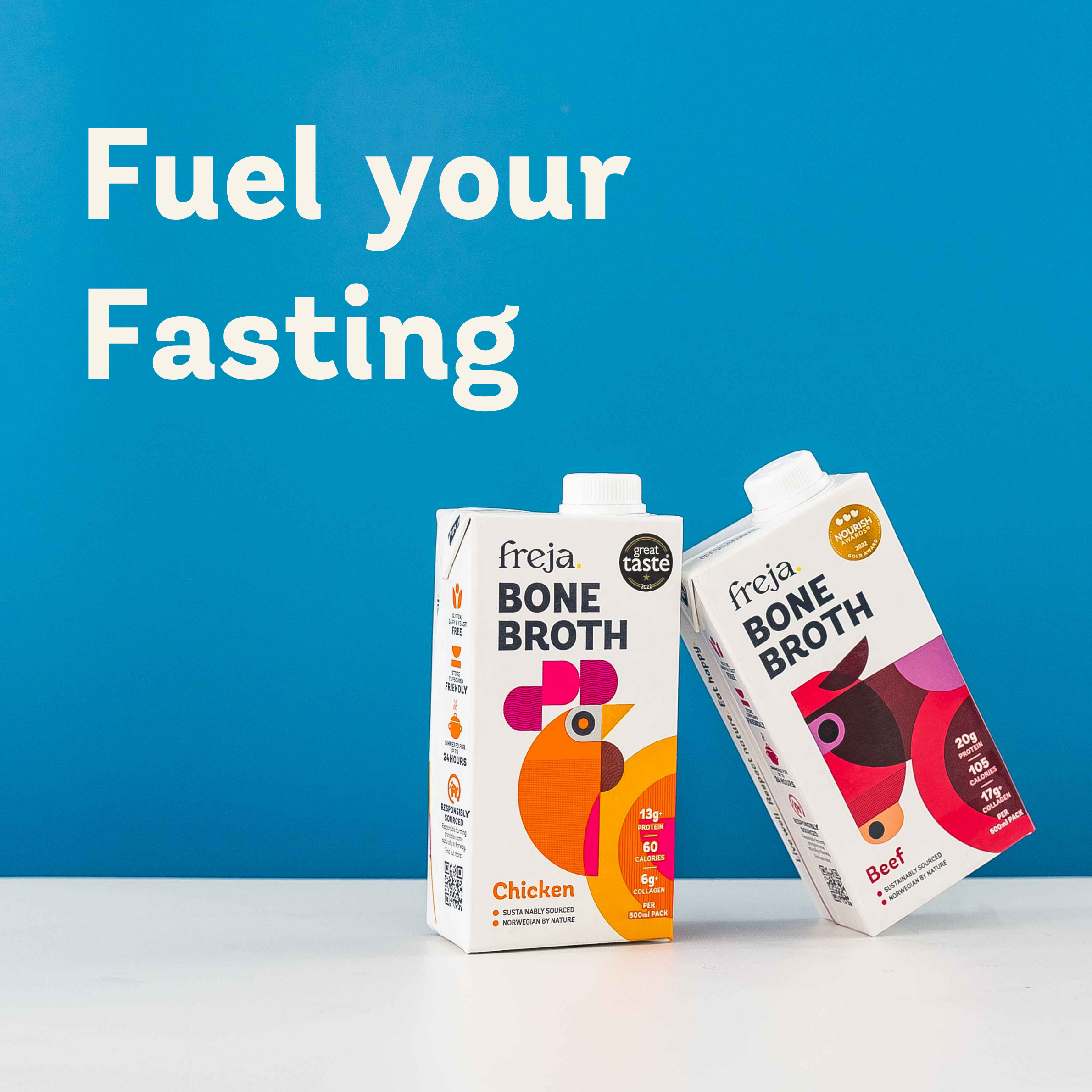 Freja - Your Fasting Fuel
Up to £10 off + FREE delivery
Freja Bone broth is simple, nutritious and your perfect fasting partner.
Protein packed to control hunger
Low in fat and calories
Low in carbohydrates to prevent 'carb crash'
Naturally nutritious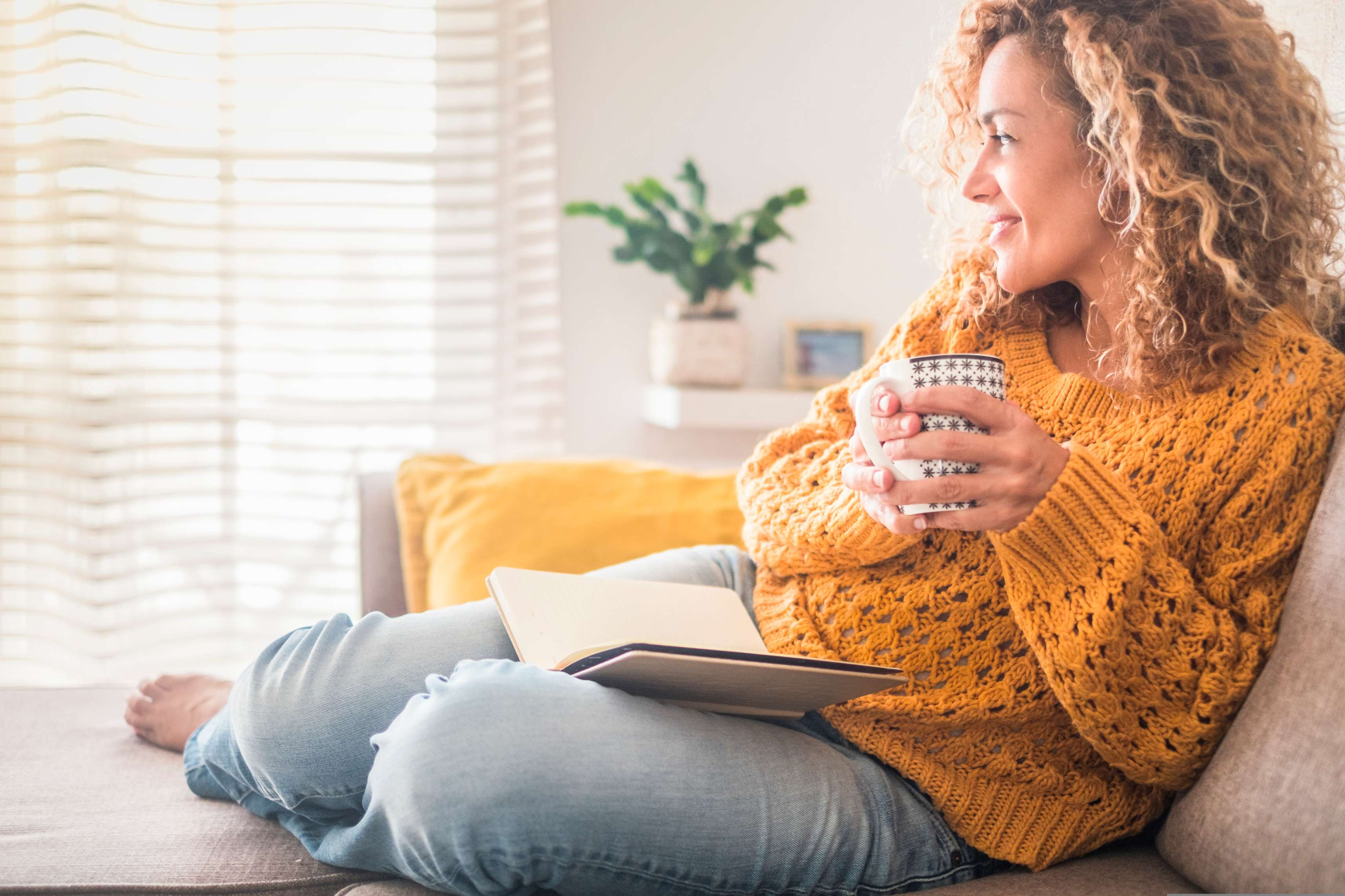 Easier, tastier and more effective fasting starts here.
More and more of us are turning to fasting for its many positive effects on our health. Adding longer gaps between eating has been shown to have numerous benefits from weight loss to improving your heart health. 
But it can be hard to sustain and difficult to ensure you still get all the key nutrients and protein you need.
This is where Freja comes in. Bone broth can make your fasting journey easier, tastier and more effective.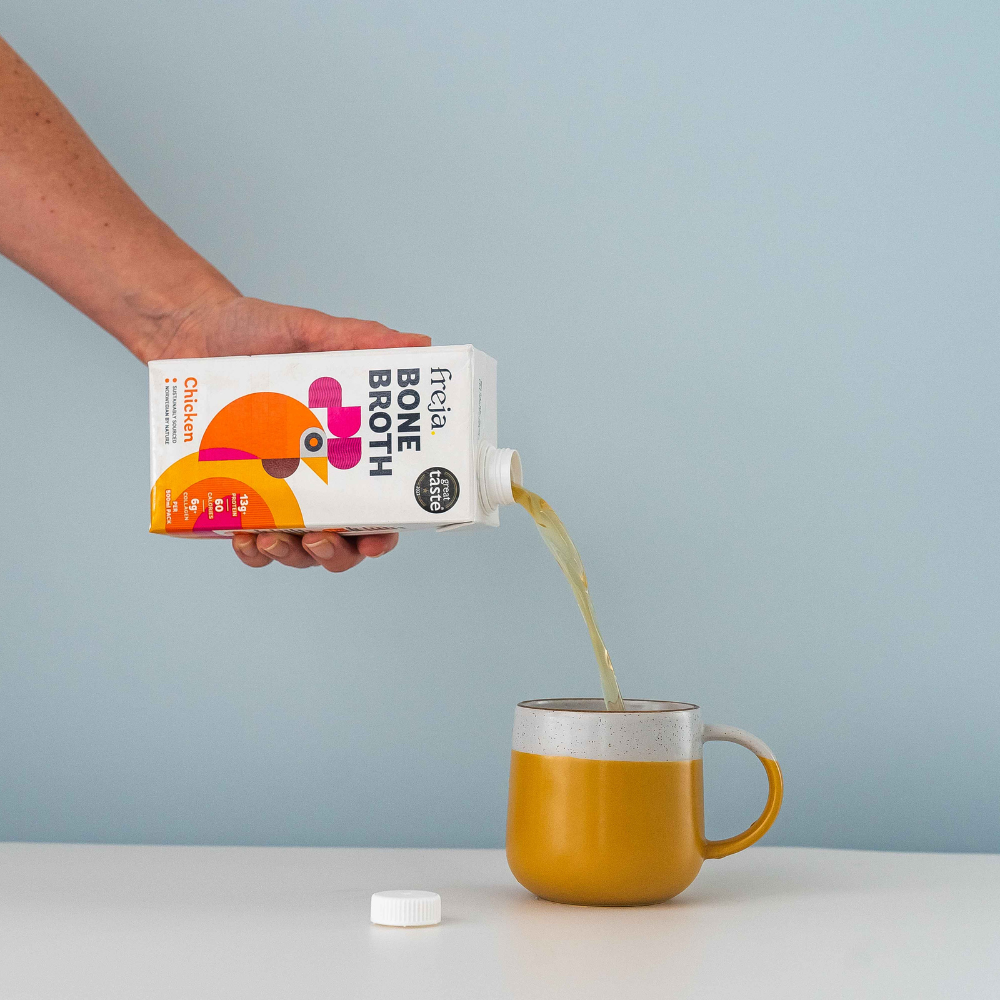 Freja Bone Broth is the perfect fasting partner. It's naturally high in protein which keeps you feeling fuller for longer, but is also low in carbohydrates so it won't give you that 'carb crash'. The essential nutrients and electrolytes will stop your body feeling deprived or dehydrated. 
Bone Broth is an excellent option to gently break your fast or to sip on throughout the day as it keeps you well nourished and controls any hunger pangs!
Simply Better Bone Broth.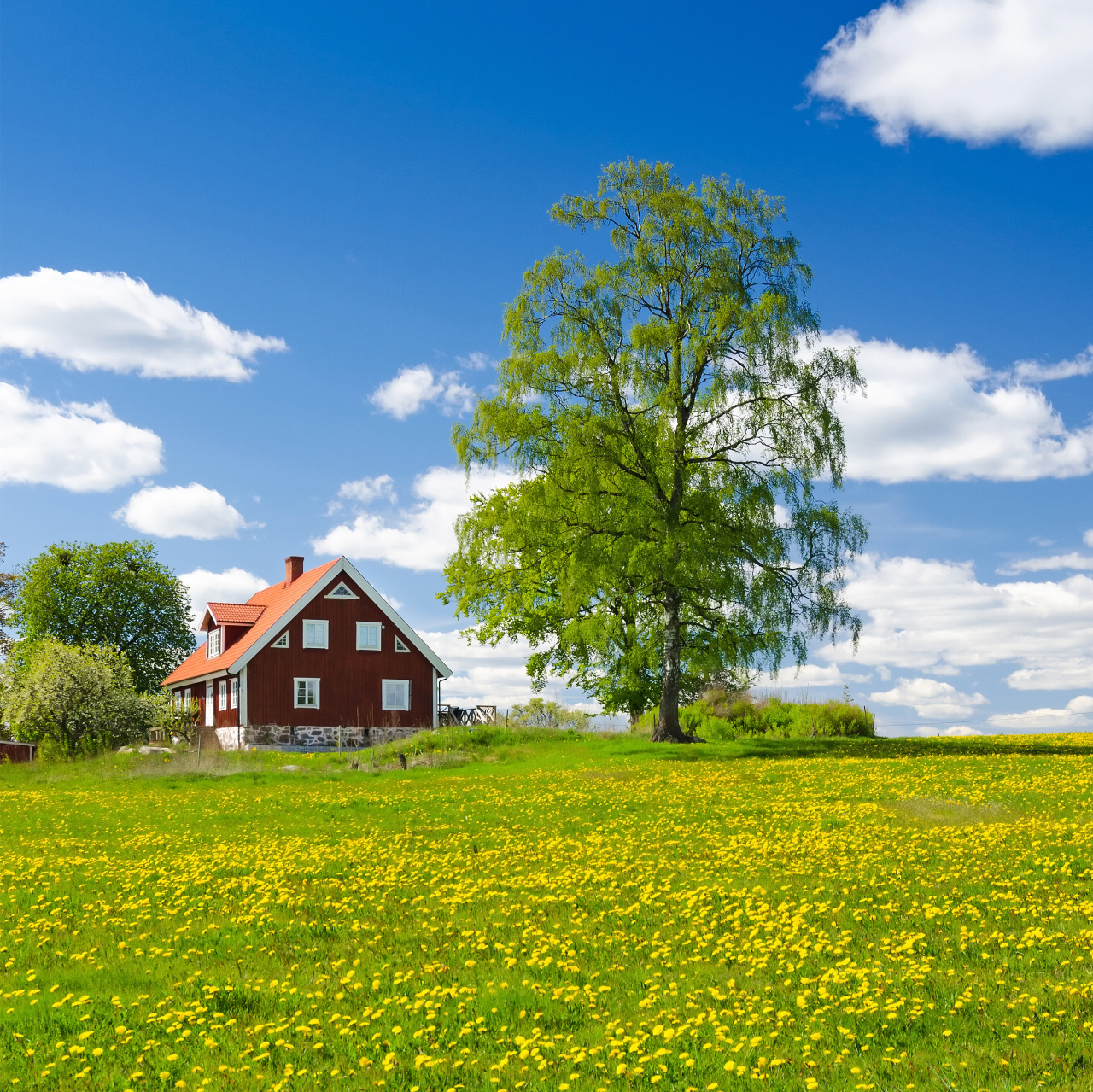 Step 1
We source and produce all our broth in Norway where smaller scale farms and colder climates make prime conditions for healthy, well cared for animals.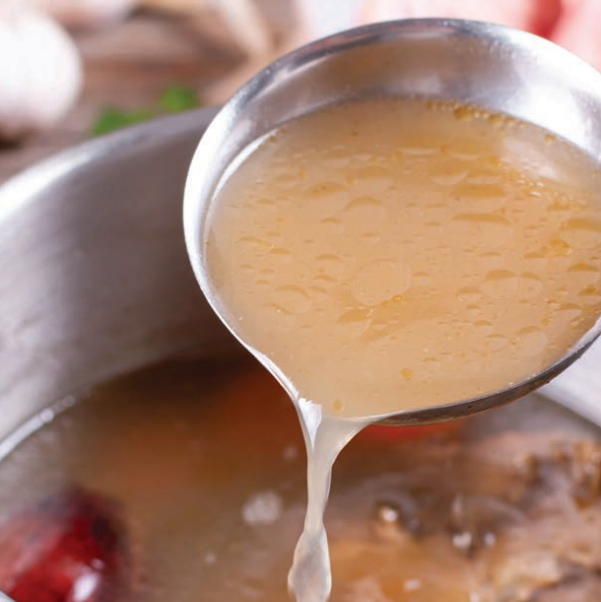 Step 2
We simmer our bones for up to 24 hours to ensure all the goodness is extracted and to maximise nutrition.
Step 3
Our 100% natural broth is store cupboard friendly but with no additives or preservatives.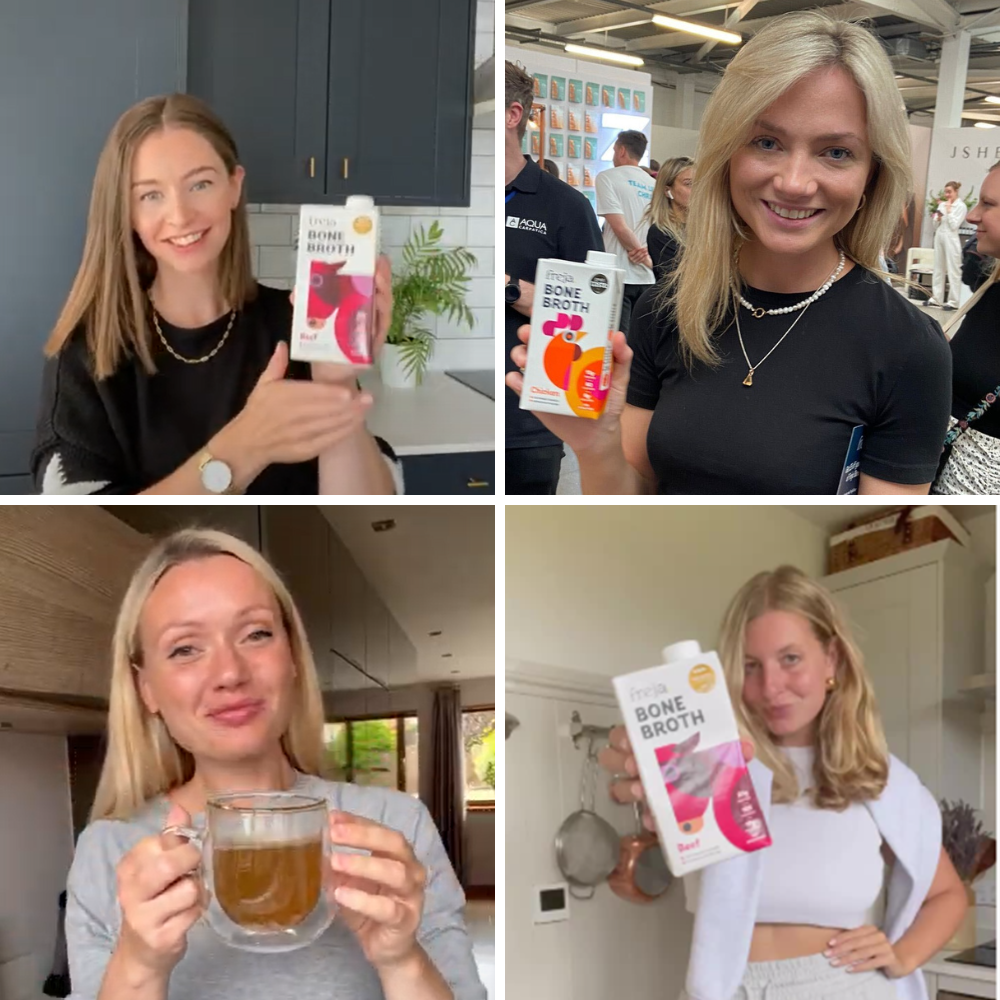 The #1 Choice For Bone Broth
Why 50,000+ customers choose Freja
"It's the easiest fast I've ever done as I've felt totally nourished all the time." - Rachel
"I am really impressed! I use bone both daily as part of my diet (keto with intermittent fasting). This is the first product I have found that actually tastes as good as the broth that I can make at home (without having to spend ages actually making it)! Love it." - Richard
"Tasty and convenient way to fuel my body with vital nutrients whilst intermittent fasting. Perfect size, great shelf life. Have recommended to others." - Diane
Freja bone broth is sourced and produced in Norway, where responsible farming principles come naturally. We use only natural ingredients, the same as you would use in your own kitchen. Producing our delicious broths in Norway means they are made from pasture-fed cows and free-range chickens that are antibiotic, hormone and GMO free.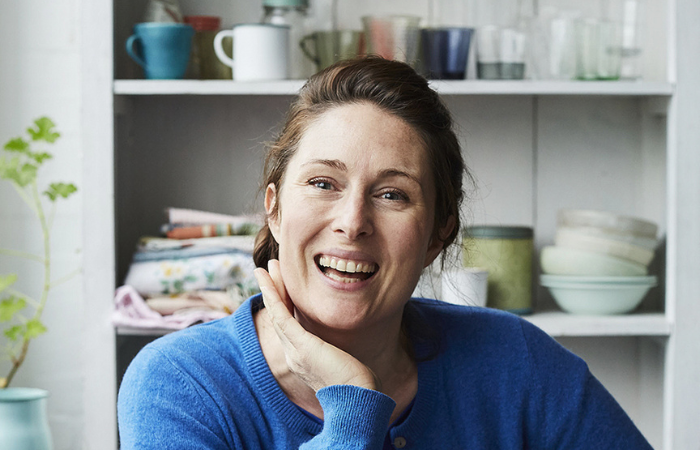 Naomi Delvin, Nutritionist & Author
"Bone broth is one of the easiest foods to digest because the long slow simmering allows amino acids and minerals to become more bioavailable. Because bone broth contains glycine and proline, it has an almost instant soothing effect on an inflamed gut, and I always recommend it to people looking to give their digestion a little TLC."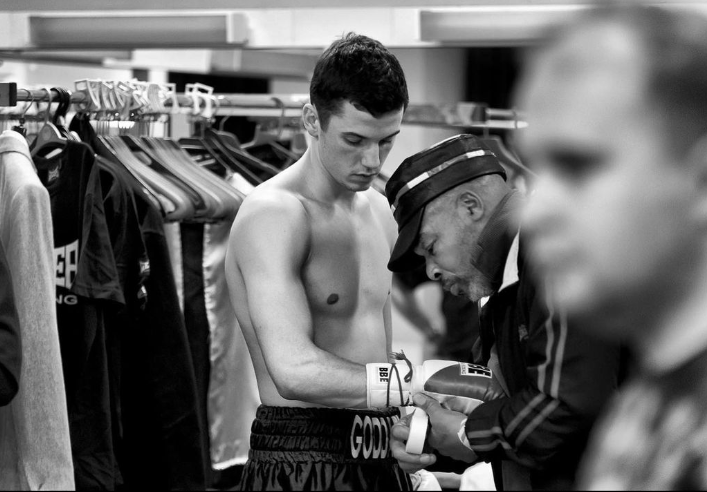 Max Goddard, Former Pro Boxer
"There are many ways to improve gut health, from adding in more plants or trying fermented foods.  One area of emerging research in this area is the use of collagen rich substances to support the gut barrier integrity. Early studies show that dietary collagen may improve some digestive symptoms."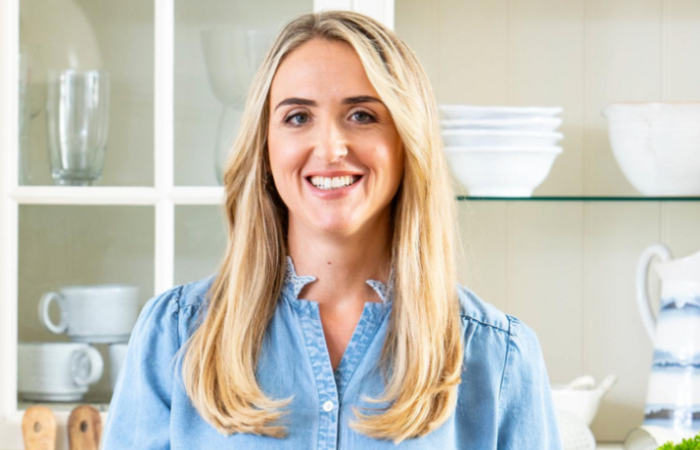 Charlotte Grand, Nutritional Therapist & Fertility Nutrition Expert
"Bone broth offers a source of nutrients that can otherwise be lacking in our diets. My favourite brand is Freja. A good broth will solidify and gel when chilled because the prolonged simmering in water helps to release amino acids and collagen from cartilage-rich joints and Freja does that!"
Choose your Favourite Flavour
Freja broths are packed with essential nourishment. Just choose the broth you need for the nutrients you're looking for. And don't worry – all of our broths are free from gluten, dairy, yeast, antibiotics, hormones, GMO ingredients, additives and preservatives.
Nutritional Info

per 100g serving

Calories

21kcal

12kcal

17kcal

11kcal

Protein

4.0g

2.7g

4.2g

0.3g

Salt

0.6g

0.6g

0.5g

0.6g

Collagen

3.4g

1.2g

1.4g

-

Gluten-free

Dairy-free

Yeast-free

Antibiotic, hormone and GMO free

-

-

No additives or preservatives
Hurry, this offer ends soon!
Try Freja today so you can:
Support your fasting journey 
Achieve your health goals
Maintain your protein intake
Keep nourished and hydrated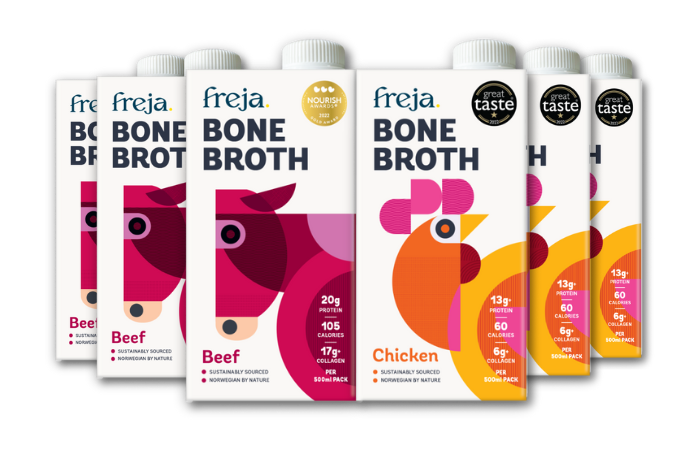 Best of Bone Broth
Get £5 OFF
3 x Beef Bone Broth
3 x Chicken Bone Broth
FREE Delivery
100% Satisfaction Guarantee
£39.99 £34.99
BUY NOW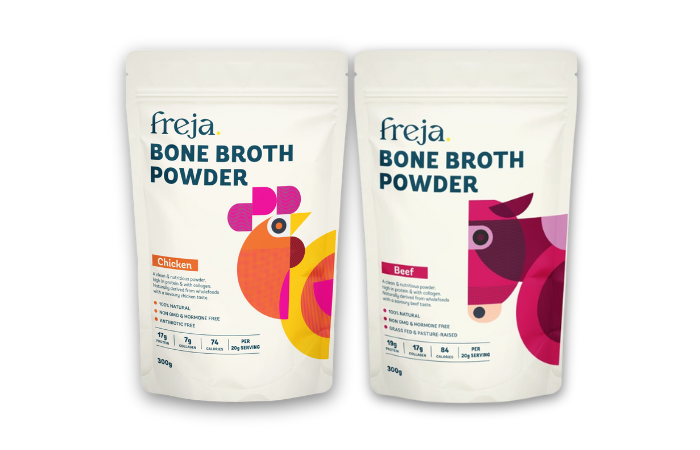 Best of Bone Broth Powder
Get £5 OFF
1 x Beef Bone Broth Powder
1 x Chicken Bone Broth Powder
FREE Delivery
100% Satisfaction Guarantee
£47.50 £42.50
BUY NOW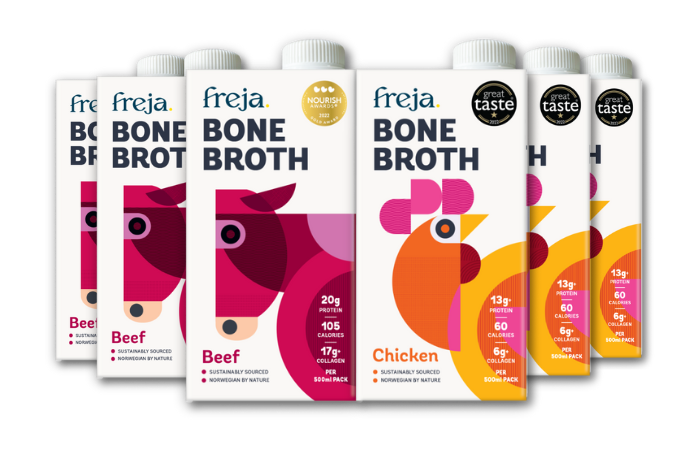 Best of Bone Broth
Get £10 OFF
6 x Beef Bone Broth
6 x Chicken Bone Broth
FREE Delivery
100% Satisfaction Guarantee
£76.99 £66.99
BUY NOW
Want to try different flavours?
Build your own bundle: it's a great way to pick a mix of flavours and try something new.