Take Stock Bone Broth
Take Stock has changed and is now Freja! Still the same delicious, 100% natural Take Stock bone broths you know and love, just with a new name and packaging.
find out more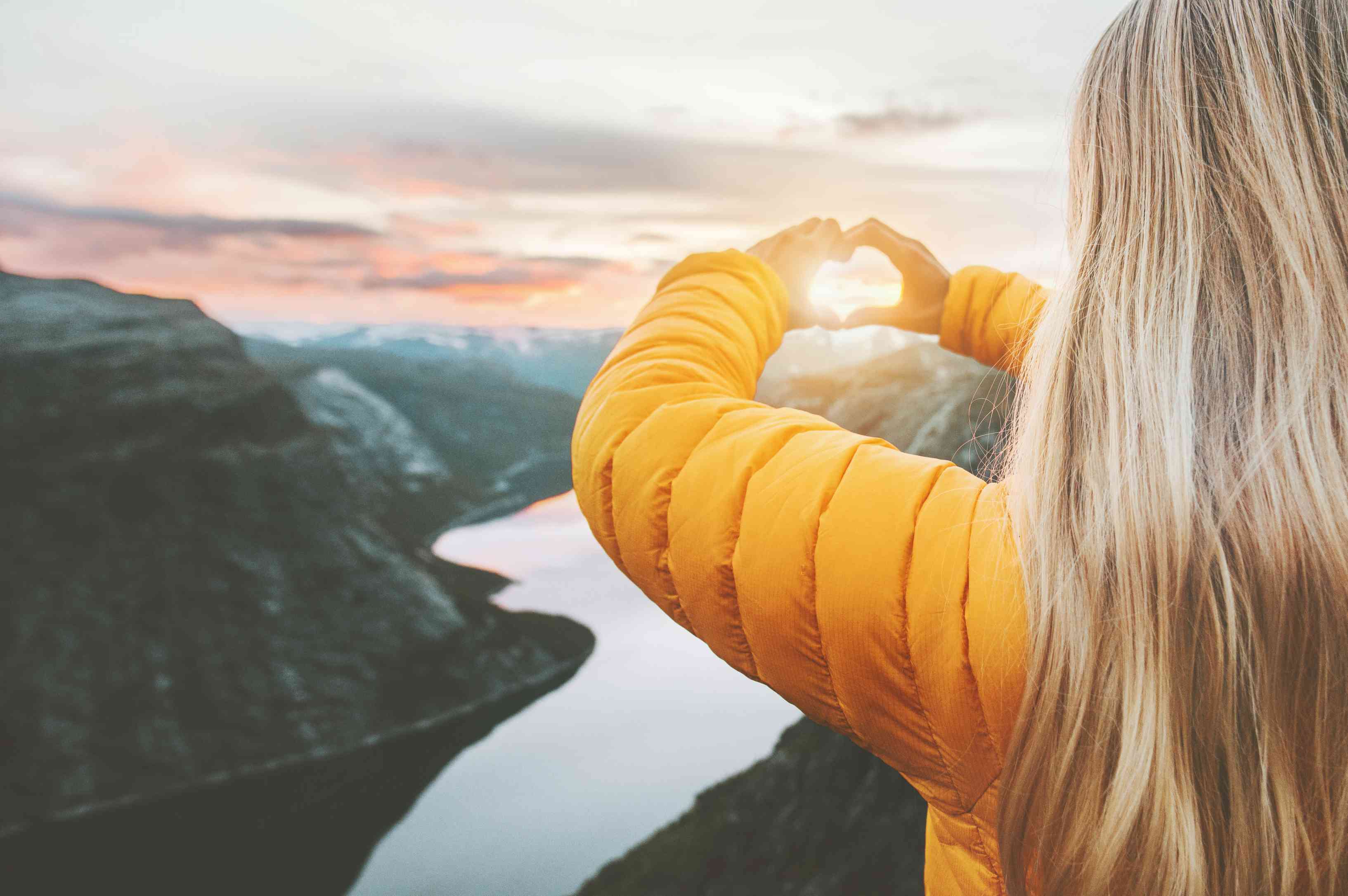 We are proud to source and produce our broths in Norway and we're changing our name to embrace our Scandinavian roots. Our name might be changing from Take Stock Foods to Freja but we're keeping the same delicious and nutrition-packed broths. We'll still use the same recipes and natural ingredients that we did with our Take Stock broth, all sustainably sourced and made in the Nordics.

Why Norway? Norway is one of the healthiest, happiest countries on earth. Perhaps there's something in the water? Or maybe it's to do with their attitude to life:Live well. Respect Nature. Eat Happy.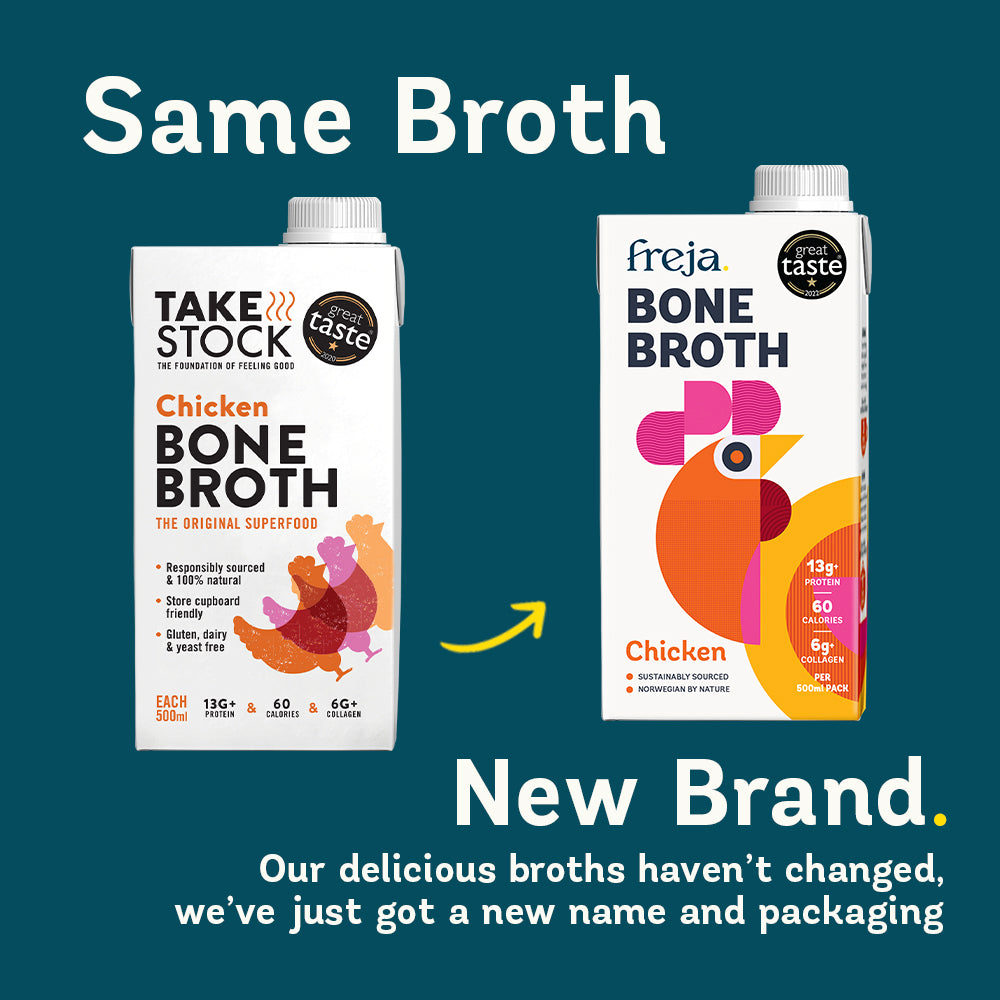 Take Stock Chicken Broth
The same delicious bone broth just with a new look. 100% natural and store cupboard friendly our Take Stock Chicken Bone Broth has now become Freja Chicken Bone Broth. Your hero ingredient in ramens and rissottos when chicken stock is called for, or just sipped as it is!
Take Stock Beef Bone Broth
Take Stock Beef Bone Broth, now Freja Beef Bone Broth, is your collagen bomb. A gut health essential and nutritional power house with a rich and full flavour. Made from just meaty bones, herbs and vegetables intensely simmered for up to 24 hours. Use in place of beef stock in hearty stews or drink as is for a mug of nourishing goodness.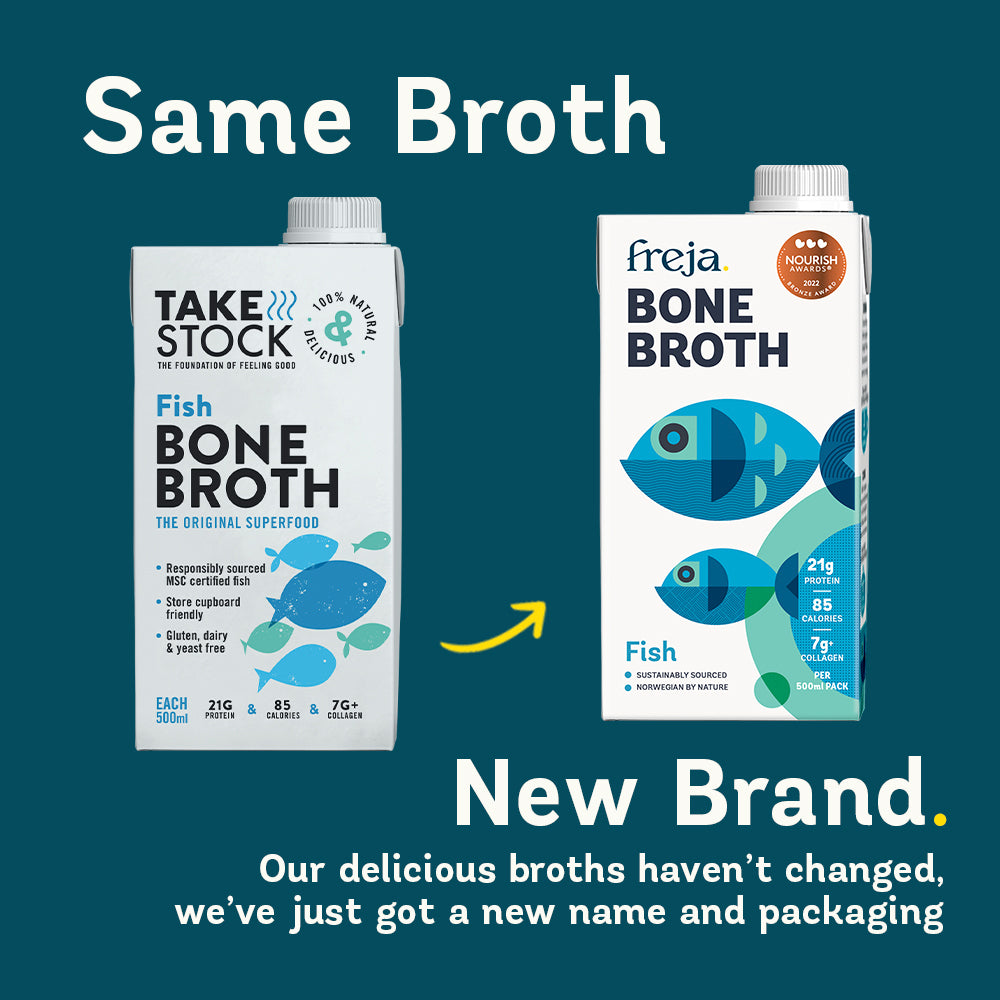 Take Stock Fish Bone Broth
Take Stock Fish Bone Broth is a great metabolism booster that's packed with collagen and omega-3 fatty acids, and has a gentle taste of the sea. Freja Fish Bone Broth is the same recipe and is perfect to use in risottos and stews to upgrade the flavour and nutritional profile of your dish.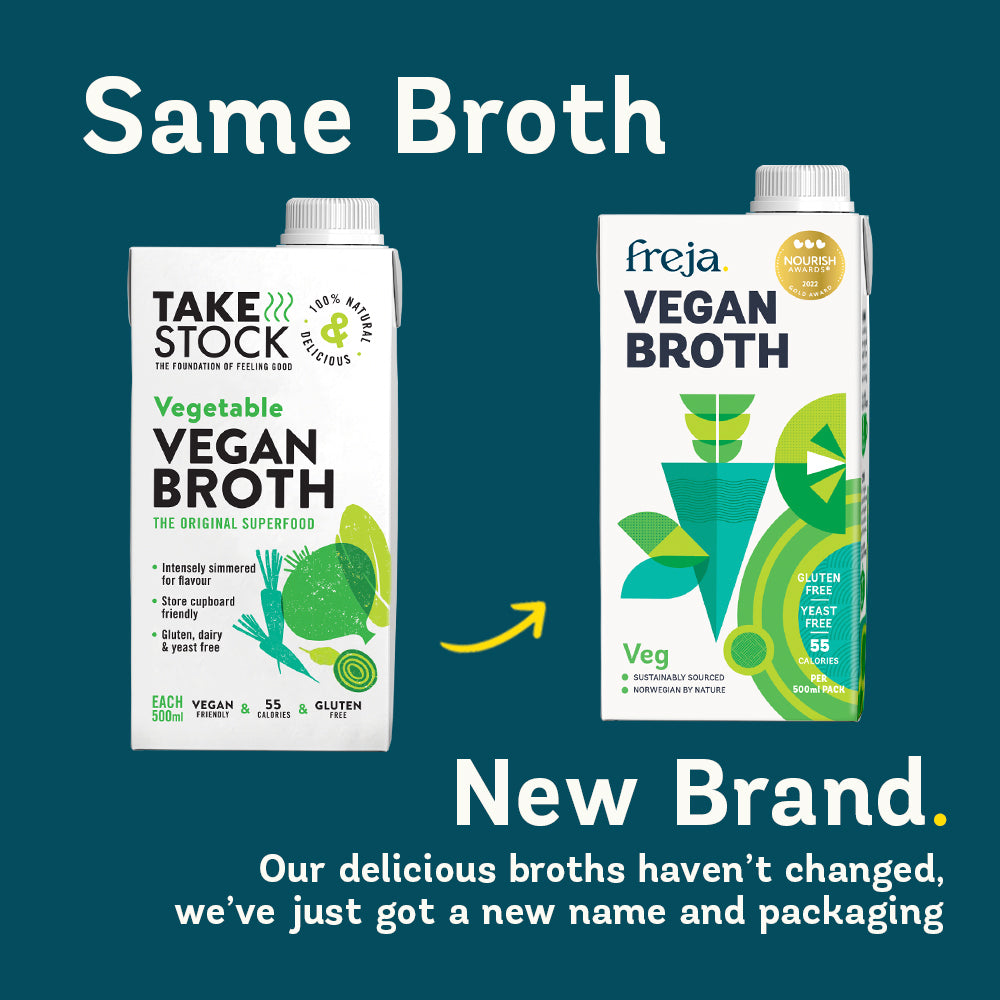 Take Stock Vegan Broth
Take Stock Vegan Broth, now Freja Vegan Broth, is your zero-fat vitamin champion. An ultra premium vegetable stock with a full, delicious flavour. 100% natural and full of vitamins and minerals its the perfect base for soups and stews.
Bone Broth Recipes
Looking for some recipe inspiration on how to use your Freja Bone Broths? We've got lots of delicious bone broth recipes
Take Stock is a gourmet bone broth that packs a real nutritional punch. Fresh, quality ingredients, responsibly sourced, and simply cooked, Take Stock is taking a stand against factory processed Frankenfoods with their versatile and conveniently packaged broths.

Take Stock's broth is prepared in small batches using traditional methods and natural ingredients for a delicious broth packed with flavour. Carefully sourced, meaty bones are first roasted in a hot oven to enhance their rich flavour; herbs and vegetables are added and intensely simmered in a slow cooker for up to 24 hours, to extract maximum flavour and nutrients; the broth is then strained to leave a clear liquid. 

Don't just take our word for it - Take Stock bone broth reviews show just why our customers love our broth so much!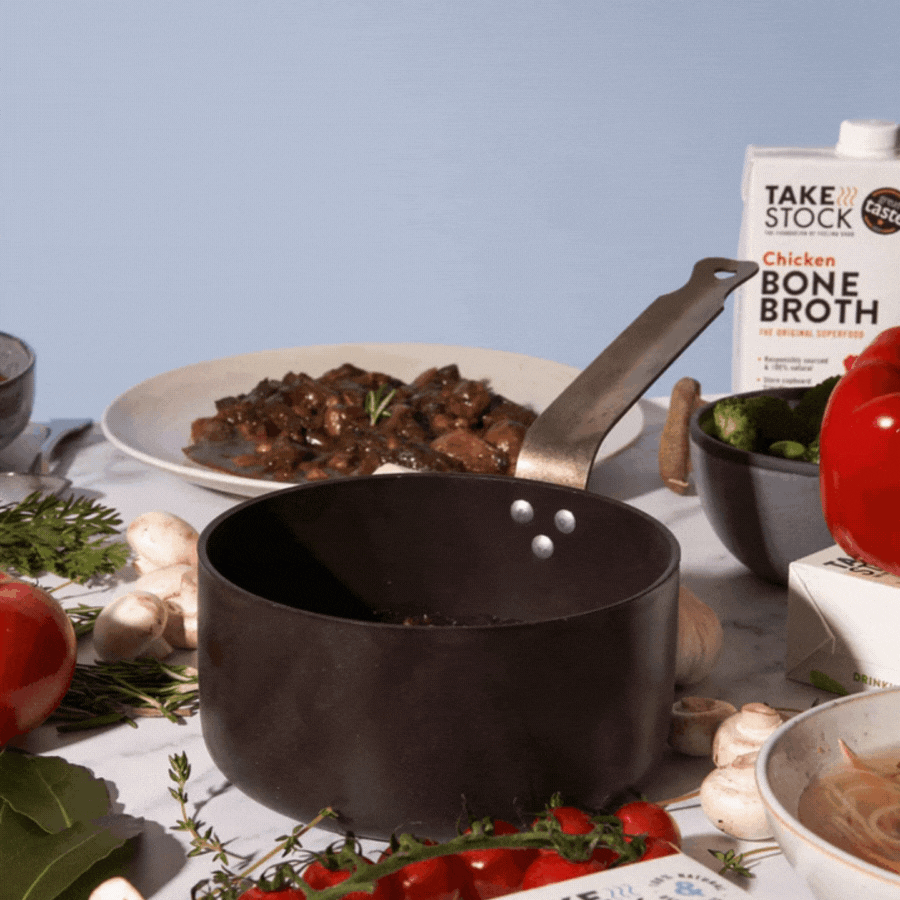 Many broth brands reduce their liquid to a concentrated syrup, transport to a packaging facility then over-dilute it to bulk out the product. Instead, Take Stock gently pasteurises the bone broth to ensure that it remains shelf stable for up to two years, this low intervention production method delivers a deep, rich, and authentic broth which tastes just as if it was made at home but is a convenient store-cupboard staple.

Use the tasty broth in many ways, add Take Stock chicken bone broth to classic soups, rich ramen, and fragrant pho; mix it into risottos and stews; use to add depth to your gravy; add to potatoes or cauliflower for a silky, healthy mash; round off your tomato-based pasta sauce; or, for an elevated pasta dish, use as a brodo base. The savoury broth fills a hunger gap between meals, making it a secret weapon for fans of intermittent fasting. Trying to cut down on caffeine? Swap in a comforting mug of Take Stock bone broth as a tea or coffee alternative. Up your Bloody Mary game with the rich, umami depth of Take Stock beef bone broth. You can even add Take Stock bone broth to smoothies, boosting your protein and collagen intake.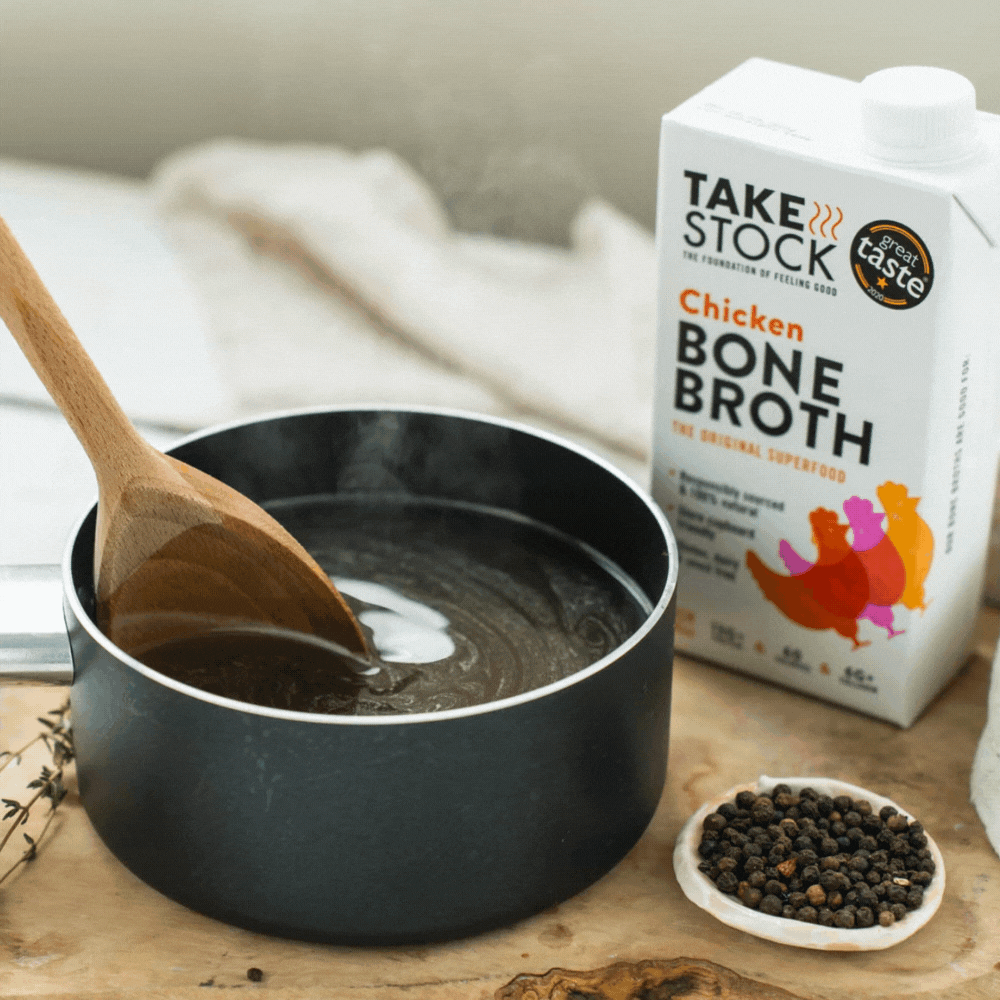 Take Stock source and produce in partnership with family-run farms in Norway, consistently voted as one of the world's happiest countries, thanks to their healthy-living outdoor lifestyle. Take Stock's Norwegian suppliers are passionate about the health and wellbeing of their animals; Norway has one of the best standards of welfare in the world – smaller farms, more space and a colder climate all come together to create prime conditions for healthy, well cared for animals. In the UK, organic animals get up to three courses of antibiotics a year, Take Stock's beef is grass-fed, the chickens are raised without any antibiotics and no hormones or GMO feeds are used and the fish is sustainably sourced from the Norwegian sea.
Frequently Asked Questions